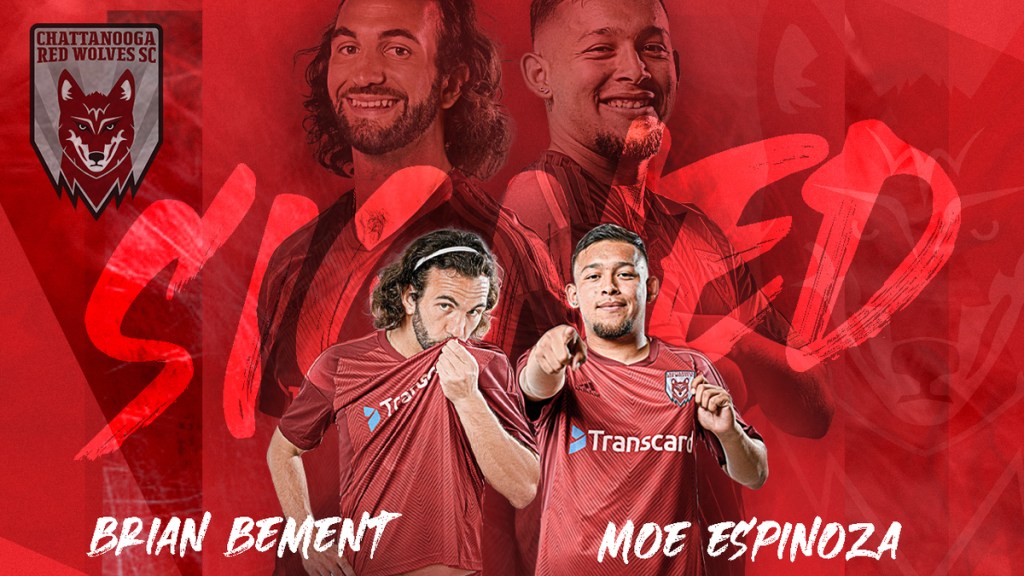 CHATTANOOGA, Tn. (Mar 31, 2022) – The Chattanooga Red Wolves are pleased to announce the signing of Ernesto "Moe" Espinoza and Brian Bement. Both players joined the Red Wolves training camp on trial and have inked a permanent deal for the 2022 season. Transaction pending league and federation approval.
"One of the benefits of having such a strong brand and incredible fan base is the ability to continually draw quality talent throughout the season," said Red Wolves GM & President Sean McDaniel. "Signing two new players based on their performance in preseason camp continues strengthening the product we put on the field. It's much easier attracting professional players when we have such a great environment for them."
Ernesto 'Moe' Espinoza, was born and raised in San Diego, California. He grew up playing for Club Tijuana Xoloitzcuintles at the U13, U15, U17, U20 levels. During his time with Xolos, Espinoza made various appearances for the US Youth National Team at the U15-19 levels.
"It feels great to join the Chattanooga Red Wolves," said Espinoza. "I'm honored with this opportunity & I'm ready to work. My goal is to win a championship & contribute as much as I can!"
"Moe showed us he has the ability to be an important piece of the Red Wolves offense throughout his preseason trial," said McDaniel. "We fully expect him to make an immediate impact for us and look forward to his continued contribution this season."
Brian Bement, is from Waterloo, Illinois and played collegiate soccer at Loyola University Chicago from 2011-2014. Bement signed his first contract with Puerto Rico FC in the NASL in 2016. Bement gained USL League One experience as a member of Forward Madison in the club's inaugural 2019 campaign where he made 18 appearances and recorded two goals during his time there.
"Coming into a club as a trialist is always a difficult task, since you're thrown into the middle of a group that has been training together," said Bement. "However, from day one, I absolutely loved the fit and style of play. I'm honored and blessed to have earned a spot and can't wait to get started with the season!"
Excited for the season, Bement is ready to get things going in Chattanooga. "My goals for 2022 are to win both the regular season and USL League One championship, as well as make a run in the US Open Cup," said Bement. "Personally, I want to be a leader in both goals and points in the league, to help us win championships."
"It was clear during Brian's preseason with us that he has the personality that immediately draws teammates and fans to him," said McDaniel. "Besides the fact that he's a strong target up front for us, he also gives us a high level of leadership given his experience in USL League One."
Bement and Espinoza join newcomers Tor Saunders, Nicolás Cardona, Tim Murray, Aaron Lombardi, Josue Cartagena, Pedro Hernandez, Jonny Guadarrama, Carlos Avilez, DJ Benton, Jorge Paez and returning players David Texeira, Ualefi, Jimmie Villalobos, Daniel Navarro, Josue España, Jorge Luna, Sebastian Capozucchi, Rey Ortíz, Rafa Mentzingen, Juan Galindrez, and José Carrera-García. Stay up to date with all Red Wolves news on our website www.chattanoogaredwolves-sc.com and on social media @ChattRedWolves via Instagram, Facebook, Twitter.