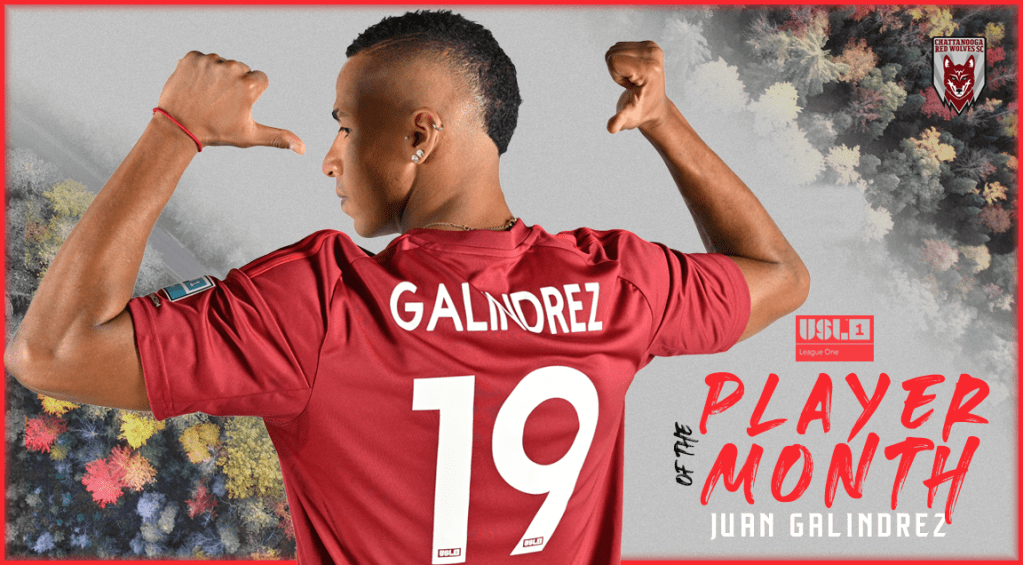 TAMPA, Fla. – Chattanooga Red Wolves SC forward Juan Galindrez was voted USL League One's Player of the Month for May. The Red Wolves' all-time leading scorer found the back of the net in four of Chattanooga's six June fixtures, recording six goals in 417 minutes of action. Galindrez's 37-minute hat trick against Charlotte was the first of the season and served as the third quickest in league history.
Guiding the Red Wolves to their highest-scoring month in club history, Galindrez netted his first of the month in stoppage time to seal a 2-1 road victory over Central Valley Fuego FC on June 11. His breakout match came at home against the Charlotte Independence, as the Colombian forward recorded his first professional brace en route to Chattanooga's club-record 7-1 win on June 22.
"It was a match that turned out magnificently," Juan Galindrez said after recording the first hat trick of the League One season on June 22. "Seven goals at home and we earned it. From the very first minute, I was determined to score. I was honestly hoping to score four because I'm always ready to give more. God gifted me three goals and I'm very happy to score my first hat trick for the Red Wolves."
Galindrez finished the month by scoring a goal in each of the Red Wolves' final two matches – against FC Tucson and Northern Colorado Hailstorm FC, respectively – to round out his special six-score month.
Galindrez received 42% of a weighted poll that included the USL League One Technical Committee and an online fan vote held at USLLeagueOne.com. Richmond Kickers midfielder Jonathan Bolanos finished second on 26% after totaling two goals and five assists, while Forward Madison FC midfielder Matheus Cassini finished third on 12% after netting a pair of match-winning goals in June.